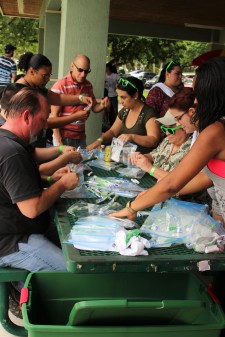 Plantation, FL, September 23, 2016 (Newswire.com) - For its annual employee field day on Sept. 2, dental and vision insurer Solstice Benefits (Solstice) added something a little different to the traditional water balloon relay, three-legged race and Frisbee disc toss.
This year, Solstice employees helped those serving in the United States Armed Forces by assembling nearly 250 dental care packages containing toothbrushes, toothpaste, floss, lip balm and mints. And, in the spirit of any field day, there was friendly competition.
Divided into teams named for military branches, a volunteer group of about 40 employees had just five minutes to gather supplies and produce as many individual bags as possible for donation to Operation Gratitude, a nonprofit organization that has provided 1.6 million care packages to service members since its inception in 2003.
Solstice counts many military veterans among its workforce, including Chief Operating Officer Carlos Ferrera, a former U.S. Air Force Staff Sergeant.
"Our employees strive to make a difference in many ways. Operation Gratitude, in particular, is a cause that is close to home for us," Ferrera said. "We are happy to thank our armed forces and veterans for their service and promote an area we are passionate about: oral health."
Solstice places a high value on member oral health education—especially about prevention. The dental care packages for Operation Gratitude are meant to not only care for our servicemen and women's smiles, but to serve as a reminder of best practices of preventing periodontal disease.
Founded in 1998, Solstice provides dental, vision and other coverage to more than 700,000 members nationally, and has built the current No. 1 largest DHMO/EPO provider networks in both Florida and New York[1]. In 2013, Solstice created an innovative private health exchange—the Solstice Marketplace. The award-winning platform offers a customizable portal for business management, as well as group enrollment.
About Solstice:
Solstice is a privately held Florida corporation based in Plantation, FL. Solstice underwrites, administers and markets dental, vision, pharmaceutical, life and short- and long-term disability benefits plans. Solstice and its subsidiaries also offer Third Party Administration (TPA) services in the Alabama, California, Colorado, Connecticut, Florida, Georgia, Illinois, Maryland, Missouri, New Jersey, New York, North Carolina, Ohio, Pennsylvania, Texas and Virginia markets—and are in the process of expanding nationwide.
It has been named one of "Florida's Best Companies to Work For" and has made Inc. magazine's "America's Fastest Growing Companies" list for five years in a row. Solstice has also developed the Solstice Marketplace, a private health care exchange. Created specifically with insurance brokers in mind, the Solstice Marketplace provides brokers with a one-stop shop to offer personalized service to their customers.  For information on Solstice, contact 1.877.760.2247 or visit www.SolsticeBenefits.com and www.SolsticeMarketplace.com.
[1] Ranked by NetMinder, the industry standard for dental network data
Source: Solstice Benefits
Share: