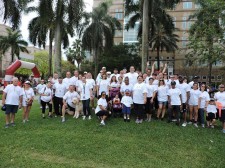 The dental insurer ranked 7th in corporate fundraising and raised nearly $20,000 in support of the American Heart Association
PLANTATION, Fla., July 13, 2017 (Newswire.com) - South Florida-based dental and vision insurer Solstice Benefits (Solstice) raised nearly $20,000 for the American Heart Association in its seventh consecutive year participating in the 2017 Broward County Heart Walk.
At over 120 employees strong, Solstice joined more than 10,000 locals at the Heart Walk in April — the culmination of months of fundraising. As a dental insurer, heart health matters to Solstice and its 700,000 insured members nationwide. Not only is heart disease the leading cause of death in the U.S., there is a link between oral health and heart health. Studies show that gum disease can increase the risk of developing heart disease.
"This is a cause that hits close to home in our community, and has personally touched our employees," said Solstice Chief Operating Officer Carlos Ferrera. "Our company supports an array of charitable causes, but the Heart Walk draws the most spirit from our employees."
In fact, a recent study showed that a targeted corporate giving strategy has a positive impact on employee attitude. And it's evidenced here. Preparations began at Solstice in early February with a kick-off party. Employees split into four fundraising teams, sparking friendly competition for a great cause.
Over its years of participation, Solstice is frequently among the top corporate fundraisers at the Heart Walk, with much of its funds raised through a concerted grassroots employee effort over several months. This year was no different. Surrounded by organizations many times its size, Solstice was the seventh company overall in fundraising out of nearly 50 participating groups.
"Our success in supporting this great cause each year demonstrates that small companies can achieve big things," Mr. Ferrera said.
Leading up to the Heart Walk, Solstice employees reached out to family and friends for donations, patrolled company hallways selling raffle tickets, hosted a company bake sale, and even played Cupid with Valentine's Day card delivery. An Easter egg hunt and private CycleBar® Davie spinning class were also among the creative activities that allowed employees to exceed their fundraising goal.
About Solstice
Solstice provides dental and vision insurance coverage to more than 700,000 members nationally, and has built the current No. 1 largest Open Access DHMO provider network in Florida and New York. In 2013, Solstice created an award-winning broker exchange and benefits administration platform — the Solstice Marketplace. In 2016, Solstice was ranked the No. 16 insurance company on Inc. magazine's fastest-growing private companies list.
Source: Solstice Benefits, Inc.
Share: