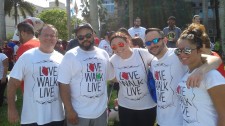 The dental and vision insurer raised nearly $19,000 in support of the American Heart Association
PLANTATION, Fla., October 3, 2016 (Newswire.com) - South Florida-based dental and vision insurer Solstice Benefits (Solstice) was named Top Small Company for the American Heart Association's (AHA) 2016 Broward County Heart Walk held earlier this year, with fundraising totals of $18,885.
At over 140 employees strong, Solstice was the fifth company overall in fundraising—surrounded by organizations many times its size. While the company fosters participation in a variety of charitable causes year-round, the Heart Walk is unrivaled in employee enthusiasm and team spirit.
Solstice has supported the Heart Walk for six straight years. Not only is heart disease the leading cause of death in the U.S., there is a link between oral health and heart health. Studies show that gum disease can increase the risk of developing heart disease. Flossing, twice daily brushing and regular dental checkups and cleanings are key.
"Each year, our employees work to support the fight against heart disease, which has impacted many of us in some way," said Solstice Chief Operating Officer Carlos Ferrera. "We are proud to join much larger companies—some ten times our size--among the top fundraisers, underscoring the great impact a small group can make. We're looking forward to 2017."
With an internal kick-off party in late January, Solstice employees split into four teams, working over the next three months to raise funds through a variety of channels. There were large-scale companywide events including a half-day employee carnival, an "old stuff day" sale, Valentine's Day heart-grams, as well as email campaigns and donation websites. The spirit didn't stop at fundraising; the company team wore matching t-shirts at the Walk—the result of an employee design competition.
Founded in 1998, Solstice provides dental, vision and other coverage to more than 700,000 members nationally, and has built the current No. 1 largest DHMO/EPO provider networks in both Florida and New York[1]. In 2013, Solstice created an innovative private health exchange—the Solstice Marketplace. The award-winning platform offers a customizable portal for business management, as well as group enrollment.
In 2016, Solstice was ranked the No. 16 insurance company and No. 1,408 overall on Inc. magazine's 35th annual Inc. 5000, the most prestigious ranking of the nation's fastest-growing private companies. This was the insurer's fifth consecutive year on the Inc. 5000 list.
About Solstice:
Solstice is a privately held corporation based in Plantation, Fla. Solstice underwrites, administers and markets dental, vision, pharmaceutical, life and short- and long-term disability benefits plans. Solstice and its subsidiaries also offer Third Party Administration (TPA) services in the Alabama, California, Colorado, Connecticut, Florida, Georgia, Illinois, Maryland, Missouri, New Jersey, New York, North Carolina, Ohio, Pennsylvania, Texas and Virginia markets—and are in the process of expanding nationwide. It has been named one of "Florida's Best Companies to Work For" and has made Inc. magazine's "America's Fastest Growing Companies" list for five years in a row. Solstice has also developed the Solstice Marketplace, a private health care exchange. Created specifically with insurance brokers in mind, the Solstice Marketplace provides brokers with a one-stop shop to offer personalized service to their customers.  For information on Solstice, contact 1.877.760.2247 or visit www.SolsticeBenefits.com and www.SolsticeMarketplace.com.
[1] Ranked by NetMinder, the industry standard for dental network data
Source: Solstice Benefits
Share: