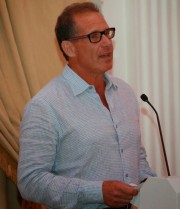 Solstice's Chief Executive Officer, Dr. Leonard Weiss, was a guest speaker at The Leukemia & Lymphoma Society's (LLS's) Team In Training Inspiration Luncheon before the Boston Marathon.
Plantation, FL, April 28, 2015 (Newswire.com) - Dr. Leonard Weiss, Chief Executive Officer at Solstice, spoke at The Leukemia & Lymphoma Society's (LLS's) Team In Training Inspiration Luncheon. This annual event is to celebrate LLS's Boston Marathon runners as a team. This year, 111 runners enjoyed lunch and speeches by inspirational guest speakers—including Dr. Weiss and Anna Peirce, professional runner.
Team in Training is a national campaign run by The Leukemia & Lymphoma Society that includes run/walk, cycle, and triathlon events. Participants train with certified coaches for the weeks/months leading up to their event and fundraise for LLS while doing so.
"The importance of the life-saving work and research undertaken by LLS cannot be understated."

Dr. Leonard Weiss, Solstice Chief Executive Officer
Several years ago, Dr. Weiss was diagnosed with cancer, underwent chemotherapy and has been in remission for over three years. Long distance running became an outlet, and while still under treatment, he completed his first full marathon—and went on to two Boston Marathon attempts. He came close to completing his last attempt but was unfortunately unable to finish due to the tragic bombing. But 2015 was his year.
"Securing a spot on the LLS's 2015 marathon team was such a privilege. I was also beyond honored to be chosen to speak at LLS's Team In Training Luncheon and share my story," said Dr. Weiss. "While completing the Boston Marathon certainly has been a goal, it was secondary to my desire to raise funds for LLS, whose cause is near and dear to my heart."
In fact, Dr. Weiss raised over $34,000 for LLS. "This is my proudest accomplishment of all," he said. "The importance of the life-saving work and research undertaken by LLS cannot be understated. I'm so thrilled so many of my family, friends and colleagues stepped up to support me in my fundraising endeavors. I cannot thank them enough."
About LLS
The mission of The Leukemia & Lymphoma Society (LLS) is: Cure leukemia, lymphoma, Hodgkin's disease and myeloma, and improve the quality of life of patients and their families.
LLS is the world's largest voluntary health agency dedicated to blood cancer. LLS funds lifesaving blood cancer research around the world and provides free information and support services.
About Solstice
Solstice is a privately held Florida corporation based in Plantation, Fla. Solstice administers and markets dental, vision, pharmaceutical, life and short- and long-term disability benefits plans. Solstice and its subsidiaries also offer Third Party Administration (TPA) services in the Alabama, California, Colorado, Connecticut, Florida, Georgia, Illinois, Maryland, Missouri, New Jersey, New York, North Carolina, Ohio, Pennsylvania, South Carolina, Tennessee, Texas and Virginia markets—and are in the process of expanding nationwide. It has been named one of "Florida's Best Companies to Work For" and has made Inc. magazine's "America's Fastest Growing Companies" list for three years in a row. Solstice has also developed the Solstice Marketplace, a private health care exchange. Created specifically with insurance brokers in mind, the Solstice Marketplace provides brokers with a one stop shop to offer personalized service to their customers.
For information on Solstice and the Solstice Marketplace, contact 1.877.760.2247 or visit www.SolsticeBenefits.com and www.SolsticeMarketplace.com.
Share: